26 February 2015 | 18:41
Rosen Plevneliev: the Strategy for a European Energy Union is a Vision for Integration and We Praise itrn
Bulgaria is ready to contribute with concrete ideas and projects to creating a regional energy union, President Rosen Plevneliev said regarding the Strategy for a European Energy Union proposed by the European Commission. After the meeting he held with Jean-Claude Juncker, president of the European Commission, the Head of State said that the fact that the strategy targets the region of Southeast Europe is a positive sign.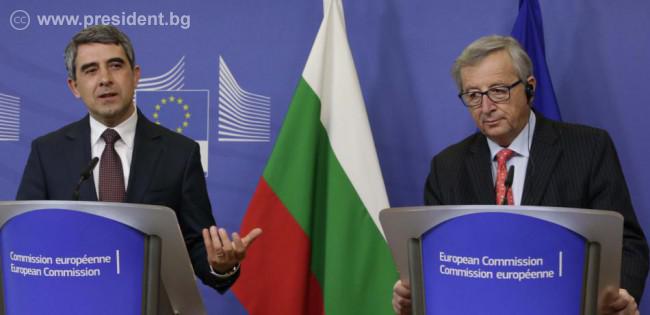 20 February 2015 | 16:23
The Head of State: Bulgaria and Romania Should Speak in One Voice on the Key Issues on the Southeast-European and EU Agenda
"For Bulgaria Romania is a good neighbor, partner and ally. The two countries intend to adopt a common approach to the key issues on the Southeast-European and EU agenda." This is what President Rosen Plevneliev said at a joint news conference given together with his Romanian counterpart Klaus Iohannis in Bucharest. President Plevneliev is the first Head of State who is paying an official visit to Romania after President Iohannis took office. Rosen Plevneliev emphasized that the two countries have the ambition to achieve concrete results regarding energy diversification and enhancing the security of the natural gas supplies.