NEWS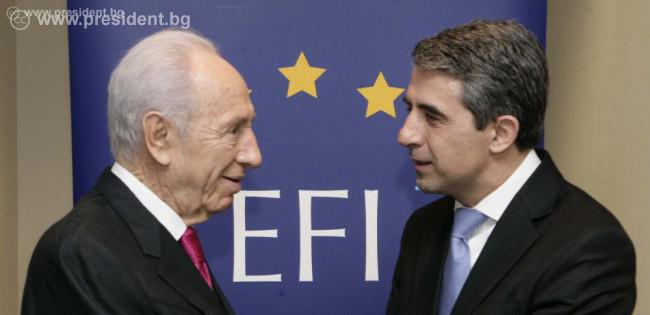 6 March 2013 | 15:23
The presidents of Bulgaria and Israel commemorated the 70th anniversary of the saving of the Bulgarian Jews during World War II
President Rosen Plevneliev and the Head of state of Israel Shimon Peres took part in the official ceremony in the European Parliament in Brussels which commemorated the 70th anniversary of the saving of the Bulgarian Jews during World War II. A documentary exhibition under the title of "A difficult choice of great significance: the fate of the Bulgarian Jews" was opened. Two heads of state, Foreign Minister Nikolay Mladenov, EU commissioner Kristalina Georgieva and MEPs were present at the ceremony.
"Today we are paying tribute to the millions of innocent victims of the Holocaust and we remember those who lost their lives in these dark historical moments," President Rosen Plevneliev said in his speech. The head of state added that in the Holocaust museums the figure pointing out the number of Holocaust victims placed against the name of Bulgaria is zero. "Moreover, Bulgaria is the only state in which the Jewish population increased during that period," the President emphasized.
"The exceptional examples of bravery and the acts of humanity in history should never be forgotten and they should be reconfirmed over and over again," the head of state further added. He said that saving the Bulgarian Jews was an achievement of the Bulgarian civil society, which supported the cause for defending its close acquaintances, friends and neighbors. "I am proud to be President of a nation that showed bravery and opposed the dark forces of humiliation and achieved such a unique historical feat", President Plevneliev further added. Real human fates are behind the photos included in the exhibition and this fact should not be forgotten, the head of state said and presented Shimon Peres with a plaquette designed especially for the anniversary. Rosen Plevneliev added that unfortunately Bulgaria was not in a position to save the Jews deported from Northern Greece and parts of Yugoslavia as they did not hold Bulgarian passports and were not Bulgarian citizens.
Israeli President Shimon Peres thanked the Bulgarian people for the unique example they set in history, saving the Bulgarian Jews. Under President Peres' words, this act shows "a real combination of courage and unity". "We were born equal to live as equal, we were born in peace to live in peace," President Peres addressed the guests of the event.
In Brussels President Rosen Plevneliev will have working meetings with Herman Van Rompuy, president of the European Council, with Jose Barroso, president of the European Commission, with Kristalina Georgieva, Bulgarian EU commissioner and with Martin Shultz, president of the European Parliament.
MORE FROM NEWS
10 January 2022 | 20:38

President after CCNS: The opening of EU accession negotiations with the Republic of North Macedonia should not be tied to deadlines, but to achieving tangible results
0
2
6 January 2022 | 13:05

Radev: 'I welcome the intentions to intensify the dialogue with the Republic of North Macedonia, but I also expect all the open issues to be resolved'
0
6
1 January 2022 | 08:28

Rumen Radev: Our society changes when each of us realises our human responsibility and we all ennoble our attitude towards each other
0
1
30 December 2021 | 13:49

Outgoing Apostolic Nuncio receives high Bulgarian state honour
0
2
24 December 2021 | 11:50

President Rumen Radev talks on the telephone with Ilham Aliyev, President of the Republic of Azerbaijan
0
1
21 December 2021 | 19:58

The Head of State: To deal effectively with the crises, Europe needs a strategic vision and the ability to take decisions autonomously and in a timely manner
0
3
20 December 2021 | 15:46
President Rumen Radev and Greek PM Kyriakos Mitsotakis discuss the promotion of bilateral energy, transport and economic connectivity
0
4
16 December 2021 | 22:05

President Rumen Radev in Brussels: Bulgaria will defend its interests in the energy sector
0
1