NEWS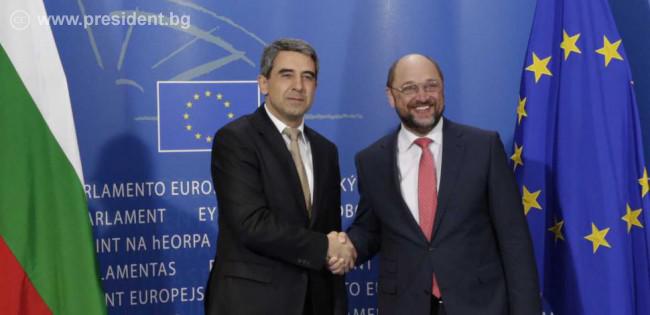 1 April 2014 | 21:09
The Confrontation Between the Political Parties will Lead to Disrespect for the European Agenda Before the European Parliament Elections on 25 May, the President Warned
President Rosen Plevneliev and Martin Schulz, president of the European Parliament discussed in Brussels the serious exchange of opinions on the situation in Bulgaria, the role of our country in the EU and the concrete contribution of the EU in support of the reforms in Bulgaria and the whole region.
"The European Parliament has always understood and supported Bulgaria and it is essential that we share our ideas and voice concerns regarding the forthcoming elections for the European Parliament," President Rosen Plevneliev said at a joint briefing with Martin Schulz after the meeting they held in the European Parliament. The two expressed hopes that the debates in the next two months will focus on the European agenda, and on Bulgaria's adding value to the EU and the country's improvement of and participation in the EU programs in the most reasonable manner.
Rosen Plevneliev and Martin Schulz expressed concerns that the elections for the European Parliament due on 25 May in Bulgaria will be treated as domestic elections and will provoke confrontation between the political parties. "This will lead to disrespect for the items on the European agenda and to a negative campaign of serious opposition," the President said.
"Hopefully the lack of a dialogue between the major political parties will be overcome. There are reforms which cannot be further delayed and important decisions which should be soon made. Political confrontation should give way to important statehood decisions. Naturally, such confrontation is part of democracy, and is invariably present. However, we do hope that reforms will be conducted and the European agenda will have its impact in Bulgaria as well," President Rosen Plevneliev said.
The progress Southeastern Europe has made in European integration and Bulgaria's active role in support of the countries in the western Balkans were also highlighted at the meeting. "Bulgaria calls for keeping Southeastern Europe in focus with a view to the planning until 2020, particularly with respect to the cohesion in the region which will strengthen its economy," the President further said.
The Head of State is on a working visit to Brussels to participate in the fourth EU-Africa summit, which will start on 2 April.
MORE FROM NEWS
12 May 2021 | 18:03

President Rumen Radev Held a Phone Call with the President of the State of Israel Reuven Rivlin
0
1
10 May 2021 | 21:32

The President: The European Security Pillar Must Be in Line with NATO's Development and Requires Adequate Technological and Industrial Capabilities
0
1
8 May 2021 | 13:30

We Need a Strong and Effective EU to Be a Global Leader in the Transition to Sustainable Development, the Presidents of the 21 Member States Declared
0
1
22 April 2021 | 16:13

President Rumen Radev Held a Working Meeting with German Ambassador Christoph Eichhorn
0
1
15 April 2021 | 11:15

The Head of State to the Members of Parliament of the 45th National Assembly: It Is Up to You to Revive Parliamentarism
0
9
8 April 2021 | 14:57
President Rumen Radev and the World Bank Country Manager for Bulgaria Fabrizio Zarcone Discussed Approaches to Overcoming Socio-Economic Inequalities in the Country
0
1
29 March 2021 | 16:05
Rumen Radev: Each Book Brings Significant Spirituality and Emotionality When Read in the Author's Native Language
0
3