NEWS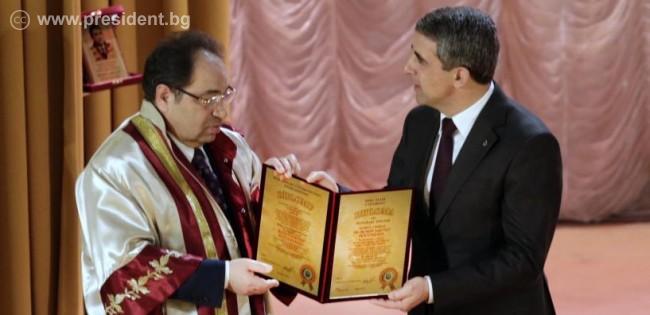 11 March 2016 | 10:05
President Rosen Plevneliev was awarded the Doctor Honoris Causa title of the Baku State University
We are living in a rapidly changing world and the politicians are obliged to recognize the processes that will shape the next decades. This is what President Rosen Plevneliev said after being awarded the Doctor Honoris Causa title of Baku State University. The Head of State received the honorary title for his contribution to the development of international relations and delivered a lecture before the alumni and professors of the university, which is among the most prestigious scientific and educational centers in Azerbaijan and the region.

"As a politician but also as a citizen, I work for a strong Europe that is united and at peace. This road is not paved with day to day partisan fights, party wars or political battles, but with focused hard work, smart prioritization, dedication and innovative thinking," Rosen Plevneliev said. The Head of State said that the political and economic challenges may be overcome only by having a consistent long-term vision that identifies the most important goals.

In the President's words, integration and cooperation are extremely important to achieving efficient results, when you have to react to a crisis and seek joint solutions. "Today the refugee crisis is crucial for Europe. It has the capacity to change it politically, economically and socially. It inflames old plagues in Europe like populism, nationalism and division," the Head of State said. Rosen Plevneliev further highlighted that this crisis proves the considerable need for long-term planning in the EU and taking joint decisions.

"In the process of globalization we need friends with whom to face together the common challenges," President Plevneliev was adamant and highlighted the friendly relations between Bulgaria and Azerbaijan.

The Head of State recalled that Azerbaijan is an important partner in ensuring energy diversification not only in Bulgaria and the Southeast European regions, but also in the EU. "I have voiced my firm support for establishing the strategic partnership between the EU and Azerbaijan. Ensuring energy diversification, improving the energy security and creating new opportunities for economic cooperation are just some of the instruments we can use to adapt to the fast changing world," President Plevneliev further said.

The Doctor Honoris Causa title of Baku State University has also been awarded to EC president (2004-2014) Jose Manuel Barroso, President of the Republic of Turkey (2007-2014) Abdullah Gul, the Prime Minister of the Russian Federation Dmitry Medvedev and the President of Azerbaijan Ilham Aliyev.

MORE FROM NEWS
28 September 2023 | 17:52

President Holds Meeting with EU Commissioner Ivanova
0
3
28 September 2023 | 15:49

President Rumen Radev Meets with Samsung Corporation Officials
0
1
25 September 2023 | 16:27

Rumen Radev: The EU-Vietnam Agreement on Investment Protection Opens favourable prospects for Bulgaria's economic cooperation with a trusted partner
0
3
24 September 2023 | 19:11

Radev Holds a Talk with Kosovo President
0
1
21 September 2023 | 08:41
Rumen Radev: Bulgaria and the Republic of Korea Have Potential for Further Expansion of Partnership in Industry and High Technologies
0
2
21 September 2023 | 08:36

President Rumen Radev and Saudi Foreign Minister discuss prospects for the development of economic cooperation between Bulgaria and Saudi Arabia
0
3
20 September 2023 | 19:44

Head of State Rumen Radev from the UN Rostrum: Priority of the 78th UNGA Session Should Be to Find Modalities That May Pave a Way towards Restoring the Peace in Ukraine
0
3