NEWS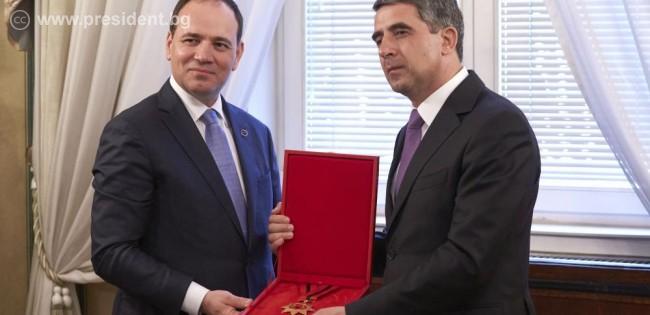 1 June 2016 | 18:54
Rosen Plevneliev: The Southeast European Countries Should Pool Efforts to Defend the European Values
The excellent dialogue between Bulgaria, on the one hand, and Albania and Croatia, on the other, within the chairmanship-in-office of SEECP creates stability and an opportunity to build on the results achieved in regional partnership. This is what President Rosen Plevneliev said, who held talks with the President of the Republic of Albania Bujar Nishani at 2 Dondukov street. President Nishani took part in the SEECP summit today. Together with Bulgaria, Albania and Croatia form the so-called troika, which includes the former, current and next chair-in-office of SEECP.

"The Southeast European countries can implement the projects in the sphere of regional energy infrastructure only if they are in line with the common priorities set to increase energy security," Rosen Plevneliev said. The Head of State called on for taking joint actions to defend and confirm the European values in the Balkans and thanked Bujar Nishani for his consistent and principled position to have the European prospects of Albania materialized.

"Albania remains committed to its European road and is determined to conduct the necessary reforms to ensure its full-fledged EU membership," President Nishani highlighted. He thanked the Bulgarian Head of State for our country`s support in this process, and also for his efforts to build and develop the good-neighborly and friendly relations between all countries in our region.

The Bulgarian and Albanian Heads of State also discussed the prospects for further strengthening the bilateral cooperation at the meeting. President Plevneliev voiced our country`s readiness to support Albania in the development of its capacity for EU funds management and highlighted the necessity to ensure closer partnership in the energy, energy efficiency and ICT sectors.

Head of State Rosen Plevneliev awarded his Albanian counterpart the Stara Planina order first class for his contribution to the development of the bilateral relations. President Nishani awarded President Plevneliev the Order of the National Flag for the Bulgarian Head of State`s contribution to the development of the friendly relations between the Bulgarian and Albanian peoples.

President Rosen Plevneliev also held talks at 2 Dondukov street with Lamberto Zannier, Secretary General of the Organization for Security and Cooperation in Europe. The two exchanged opinions on issues which are on the regional and international agenda, including the political situation in the region of Southeastern Europe and also in Eastern Ukraine. President Rosen Plevneliev and Lamberto Zannier shared the position on strengthening the interaction between the Euro-Atlantic structures and the regional formats for political dialogue, such as SEECP. The two highly appreciated the achievements of the Bulgarian chairmanship-in-office, which will end with the jubilee summit in Sofia.

In the Head of State`s opinion, the Southeast European countries should work to ensure more integration and connectivity. Thus the region will be more resistant to external dependencies, President Plevneliev said at the talks.
MORE FROM NEWS
28 September 2023 | 17:52

President Holds Meeting with EU Commissioner Ivanova
0
3
28 September 2023 | 15:49

President Rumen Radev Meets with Samsung Corporation Officials
0
1
25 September 2023 | 16:27

Rumen Radev: The EU-Vietnam Agreement on Investment Protection Opens favourable prospects for Bulgaria's economic cooperation with a trusted partner
0
3
24 September 2023 | 19:11

Radev Holds a Talk with Kosovo President
0
1
21 September 2023 | 08:41
Rumen Radev: Bulgaria and the Republic of Korea Have Potential for Further Expansion of Partnership in Industry and High Technologies
0
2
21 September 2023 | 08:36

President Rumen Radev and Saudi Foreign Minister discuss prospects for the development of economic cooperation between Bulgaria and Saudi Arabia
0
3
20 September 2023 | 19:44

Head of State Rumen Radev from the UN Rostrum: Priority of the 78th UNGA Session Should Be to Find Modalities That May Pave a Way towards Restoring the Peace in Ukraine
0
3