NEWS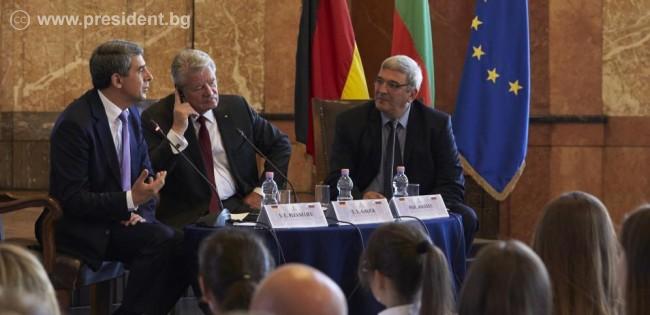 23 June 2016 | 12:59
President Rosen Plevneliev Called on the EU Member States not to Give Up Further Integration and Cooperation Among Each Other
If the EU disintegrates, Europe will be lastingly destabilized because the Union is a project for peace, the rule of law and observing human values. At a discussion with students and pupils held at Sofia University, which Federal President of Germany Joachim Gauck also attended, the Head of State called on the EU member states not to give up further integration and cooperation among each other. President Plevneliev called on for observing the rules and adhering to the achievements and values of united Europe. "Every war starts when someone violates human rights and the rule of law," the Bulgarian Head of State recalled.

The President called on the national governments not to shift the blame for their failures to Brussels, meanwhile attributing the success of the European Union to themselves. The Head of State was adamant that the process of European integration will not endanger the sovereignty of the member states. "The strength of the European Union lies namely in the nation-states. No one has deprived them of this strength and no one intends to do so. The leaders themselves of every nation have the say in the EU," President Rosen Plevneliev said and added that there is no contradiction between a strong European Union and strong EU member states.

Brussels should not be made a symbol of bureaucracy, the Head of State further said. "To make Europe's success visible, the politicians from the nation-states should be honest and admit when the EU has helped them to achieve progress and cope with the current crises," Rosen Plevneliev added.

The Head of State highlighted before his German counterpart and the participants in the discussion that the new European integration projects will make the EU member states stronger, without depriving them of their sovereignty and national identity. "Everyone will benefit from establishing a European Energy Union. The member states, particularly Bulgaria, will enjoy more competitiveness, will cope with the monopolies in the energy sector and will attract more investments. Every country will benefit from the establishment of a digital market," the President said and highlighted the freedom of movement and mobility in education as the basic achievements of the EU. Thanks to the effective partnership within the EU and the modernization of the country, a lot of young people come back to Bulgaria from abroad to make a career development here, President Rosen Plevneliev further said.

On the second day of President Joachim Gauck's official visit to Bulgaria, the Bulgarian and German Heads of State will open a joint Bulgarian-German business forum in the Sofia hotel Balkan and will visit the Rila Monastery.
MORE FROM NEWS
2 February 2023 | 15:21

Bulgaria and Hungary Expect Greater European Solidarity and Support for Strengthening the Protection of EU's External Borders and Tackling Illegal Migration
0
4
1 February 2023 | 16:21

Radev: Gas Link between Bulgaria and Serbia Creates Opportunities for Energy Diversification Not Only for the Two Countries, But Also for the Whole Region
0
5
26 January 2023 | 19:17
President: EU to Ensure Respect for the Rights and Security of Bulgarians in North Macedonia with the Same Vigour with Which It Insisted on Accelerating Its European Integration
0
1
23 January 2023 | 16:32

Radev and Nehammer: Guarding EU's External Borders Is a Common European Commitment
0
8
19 January 2023 | 17:12

Presidents of Bulgaria and Romania discuss joint efforts to join Schengen
0
1
16 January 2023 | 15:09

Bulgaria and Hungary Face Common Challenges and Share Similar Positions on Important Issues on the EU Agenda
0
2
3 January 2023 | 18:01

President Radev: Energy Cooperation between Bulgaria and Turkiye Is Crucial for Diversification of Sources for Europe
0
1