NEWS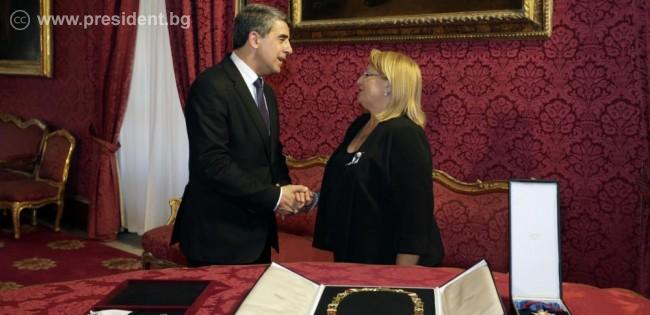 17 November 2016 | 18:04
Head of State Rosen Plevneliev Received the Companion of Honour of Malta's National Order of Merit
For his significant contribution to the promotion and fostering of the international dialogue and for strengthening the friendly relations between the Republic of Malta and the Republic of Bulgaria, President Rosen Plevneliev was awarded Malta's highest state order, the Companion of Honour of Malta's National Order of Merit.

President Rosen Plevneliev was awarded the order by President of Malta Marie Louise Coleiro Preca at a special ceremony in Valletta, where the Bulgarian President is on a state visit.

The order of Malta is awarded to foreign citizens who have contributed to the development of the international relations and who have won the respect and gratitude of the people of the Maltese Islands.
MORE FROM NEWS
1 October 2022 | 16:58

Presidents Rumen Radev and Stevo Pendarovski discuss more active energy partnership
0
3
1 October 2022 | 13:21

Radev to Von der Leyen: Bulgaria's Schengen accession will reinforce integration in Southeast Europe
0
3
1 October 2022 | 11:55

Radev and Mitsotakis: The strategic partnership between Bulgaria and Greece is an example for the region
0
2
1 October 2022 | 11:08
Head of State: Expanding connectivity between Bulgaria and Romania is important for the economic exchange of the whole region
0
2
30 September 2022 | 18:56

Presidents Rumen Radev and Ilham Aliyev: Energy and transport connectivity is key to tackling the crisis
0
6
26 September 2022 | 18:57
President Radev and his Egyptian counterpart discuss bilateral cooperation in energy and economy
0
1
8 September 2022 | 17:32

Presidents Radev and Iohannis discuss energy connectivity and the prospect of Bulgaria and Romania joining Schengen
0
1