NEWS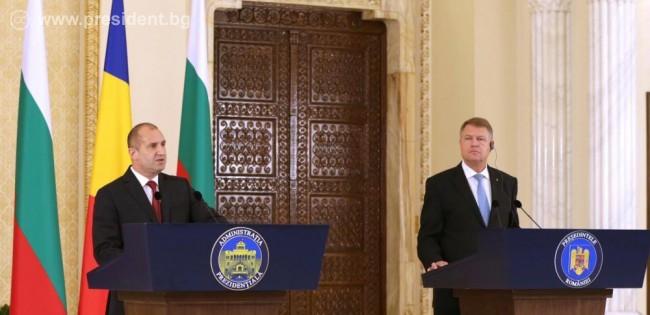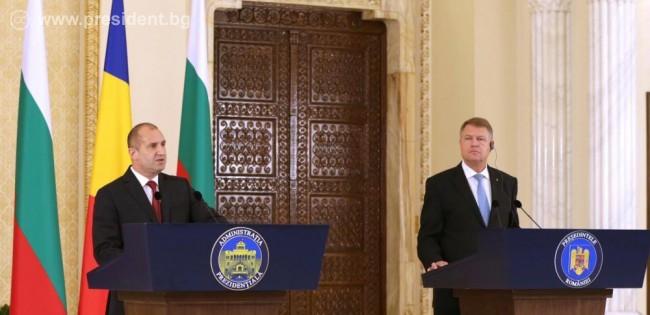 28 June 2017 | 16:01
Bulgaria and Romania will Work so as to Ensure the Development of the Energy and Transport Infrastructure which Connects the Two Countries
Presidents Rumen Radev and Klaus Iohannis called for the two countries' accession to the Schengen Area
Bulgaria and Romania share a common goal to improve and expand the energy and transport infrastructure which connects the two countries and will work so as to build new bridges and ferryboat lines across the Danube, which will encourage the contacts between the people and the businesses. This was the common stance adopted by Presidents Rumen Radev and Klaus Iohannis, who held talks in Bucharest today. The Bulgarian Head of State is on an official visit to Romania.
The increase of the bilateral trade, which reached 3.9 billion euros in 2016, and of tourism, are a clear sign of the upward trend in bilateral relations, it emerged at the meeting. Tomorrow the presidents of Bulgaria and Romania will open a Romanian-Bulgarian business forum in Bucharest, where the prospects for further development of investment cooperation will be discussed.
Rumen Radev and Klaus Iohannis confirmed Bulgaria's and Romania's ambition to strengthen their partnership within the EU. The two countries share common positions on a lot of topics on the European agenda and will cooperate so as to ensure that both countries' presidency of the Council of the EU – Bulgaria in 2018 and Romania in 2019 – will be successful.
The two presidents shared the opinion that both Bulgaria and Romania met all membership criteria for the Schengen Area way back in 2011 and all EU member states should recognize this fact.
The good bilateral cooperation in the security sphere was also highlighted at the meeting. "The joint efforts that Bulgaria and Romania pool to fight illegal migration and protect the external EU borders, to fight global terrorism and the participation of our armed forces in a lot of joint military exercises, are a clear example of our common contribution to strengthening security and stability in the Balkans," President Rumen Radev said.
The Bulgarian Head of State further pointed out that in order to boost our country's energy security, it is important that the gas inter-connector connecting Bulgaria's and Romania's gas transit networks should be reverse and should allow the transit of natural gas in both directions. "This inter-systemic connection is part of the future energy corridor along the North-South axis. This will guarantee greater freedom for decision-making, greater security and, most importantly – low prices," Rumen Radev further said.
In reply to a journalist's question after the end of the meeting regarding which elements from Romania's corruption combat model could be implemented in Bulgaria, the Head of State said that this model has proved efficient, particularly concerning sentencing and recovering property. "What is most important is that Romania has managed to create a unified body which performs clear functions in fighting top-level corruption," the Bulgarian President said. Rumen Radev added that each country has its specific peculiarities and we cannot directly copy a specific model since the structure of Romania's judiciary is different from ours. "However, we should adopt the leading principles to drastically reduce the level of corruption in Bulgaria. I have President Iohannis' support and we will continue to exchange expertise in this important sphere," Rumen Radev further commented.
Asked to comment the bilateral cooperation with Romania in the defense sphere, the President was adamant that when our country has the ambition to attract investments, to ensure higher economic growth and a better living standard, it should also guarantee a better security and the people's assurance as a NATO member state. In reply to a journalist's question, concerning the fact that Bulgaria may decide to purchase a fighter that is not currently produced, the President said that "we are not speaking of hotdogs which could be simply produced, fighters are made-to-order." We should draw a distinction between newly-produced aircraft and those which were produced more than 30 years ago, President Radev further said.
In Bucharest the Head of State laid flowers at Vasil Levski's and Hristo Botev's monuments.
Within his visit, President Radev will hold talks with Senate's Speaker Mr. Calin Popescu-Turiceanu and also with Mr. Liviu Dragnea, President of the Chamber of deputies of Romania.
During his visit in Bucharest, the Bulgarian President is accompanied by deputy Foreign Minister Emilia Kraleva.
MORE FROM NEWS
21 March 2023 | 18:32
President: It Is Extremely Important that as Many Citizens as Possible Participate in the Early Parliamentary Elections, which Will Strengthen the Legitimacy of the Institutions
0
2
21 March 2023 | 17:06

President Rumen Radev Discusses Problems Facing the EU in Energy, Economy, and Illegal Migration with the President of the European Council
0
1
15 March 2023 | 18:13

Presidents Radev and Iohannis: Regional Connectivity Is Key to Tackling Economic and Energy Challenges
0
4
11 March 2023 | 12:02
President Radev: Opening of Azerbaijan State Oil Company Office in Bulgaria Strengthens Bilateral Cooperation in Energy
0
1
11 March 2023 | 09:09

President Radev Discusses High Added Value Sectors Exchange of Investments in Baku
0
2
10 March 2023 | 18:13

Rumen Radev: The Rescue of Bulgarian Jews Is an Example of the Power of Public and Political Energy Dedicated to a Just Cause
0
5
9 March 2023 | 20:19

President: Bulgaria Is Proud It Did Not Allow Deportation of a Single Bulgarian Jew in One of the Darkest Periods of Human History
0
6