NEWS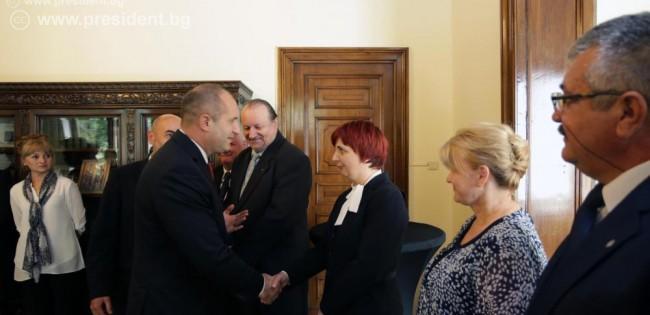 28 June 2017 | 16:05
Rumen Radev: Strengthening the Ties Between our Compatriots Abroad and Bulgaria is a Priority for the Presidential Institution
Strengthening the ties between our compatriots abroad and Bulgaria is a priority for the Presidential Institution, the Head of State said at a meeting held with representatives of the Bulgarian community in Romania today. In the Bulgarian Embassy in Bucharest President Rumen Radev held talks with the leaderships of the Bulgarian Union in Banat, the Federation of the Bulgarian Community in Romania and our compatriots that live in our northern neighbor.
"Thank you for preserving our rich culture and history. Although it is not easy to be a Bulgarian outside our homeland, you have managed to preserve your identity and Bulgarian spirit for already a couple of centuries," Rumen Radev said at the meeting.
President Radev told the representatives of the Bulgarian community that together with his Romanian counterpart President Klaus Iohannis they have confirmed their readiness to work so as to improve and expand the transport connections between the two countries – to build new bridges and ferryboat lines across the Danube, which will connect the people, businesses and regions in the two countries.
At the meeting the Head of State told our compatriots in Romania that our country will consistently work to restore the opportunity for the Bulgarian community in Bucharest to have their church temple in which the liturgy will be held in Bulgarian. The representatives of the Bulgarian associations in Romania, for their part, called on Bulgaria to send one more teacher in Bulgarian for the local Bulgarian community. A proposal was made whereby Bulgaria should undertake the initiative for transforming the offices of the Evlogi and Hristo Georgiev brothers into a museum of the Bulgarian revival in Bucharest and of the friendly relations between Bulgaria and Romania.
MORE FROM NEWS
26 November 2022 | 17:32

Head of State: Global Community Needs Decisive Action in Response to Growing Food Crisis
0
1
25 November 2022 | 19:12

President: Bulgaria is Working for Long-term and Sustainable Energy Solutions to Ensure Independence and Security
0
2
25 November 2022 | 18:49

Von der Leyen confirms EC's Support for Bulgaria's Accession to Schengen
0
1
15 November 2022 | 18:29

Rumen Radev: Bulgaria highly appreciates Germany's support for the implementation of its foreign policy priorities
0
3
14 November 2022 | 18:52
The President: For Bulgaria, the Recovery and Resilience Plan is not just financial means, but an opportunity for real modernisation of the country
0
2
11 November 2022 | 17:49

Radev, Timmermans discuss just transition to green economy
0
1
9 November 2022 | 15:07

President calls on European leaders to respect Bulgaria's and Romania's achievements for their Schengen accession
0
1
8 November 2022 | 12:29

President: Bulgaria should use its natural resources to create a green cycle for energy production and storage
0
3