NEWS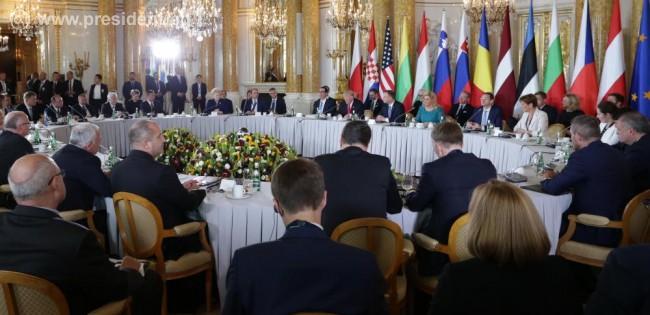 6 July 2017 | 16:56
President Rumen Radev in Warsaw: the Joint Projects and Investments of the Central and Eastern European Countries will Make the European Union Stronger
More investments and joint projects in the sphere of infrastructure, energy and digitalization in the region of the three seas – the Black, Adriatic and Baltic Seas will bring added value to the citizens of Central and Eastern Europe and will make the whole European Union more competitive and purpose-oriented. The sustainable development of our dynamic region depends on our skill to coordinate our policies, to clearly define and defend our common goals. This is what Head of State Rumen Radev said, who took part in the Three Seas Initiative in Warsaw.
The Initiative is attended by twelve countries from the region – Austria, Bulgaria, Estonia, Latvia, Lithuania, Poland, Romania, Slovakia, Slovenia, Hungary, Croatia and the Czech Republic and the USA also joined this year's format. Within the forum the countries' heads of state are discussing the opportunities for expanding their cooperation in key spheres such as energy, digital economy and security, transport, infrastructure, environment, agriculture and tourism.
We are living in dynamic times in which we face unpredictable and diverse security challenges. This is precisely why Bulgaria firmly believes that a common and consistent policy should be pursued, the President told the guests at the forum.
From the forum's rostrum Rumen Radev thanked US President Donald Trump for his presence at the Three Seas Initiative and the clearly voiced support for the development of the region: "The deployment of US military units in Bulgaria and the joint training of the two countries' armed forces contribute to increasing the combat capabilities of the Bulgarian Army," the President said.
The President commented the target set to NATO Member States to increase their defense spending to 2 per cent of GDP, saying that apart from investing more funds, the latter should be translated into tangible combat capabilities.
The participating countries adopted the decision to set up a Three Seas Initiative business forum for entrepreneurs of the 12 countries. Bulgaria welcomed the decision and President Radev pointed out that the opening of the Initiative to the private sector will provide an extra incentive to bilateral and multilateral economic, research and energy cooperation. "It is vital that the forum's political efforts be supported by actual business initiatives, which will contribute to the practical connectivity of the countries in the region," Rumen Radev said.
The Heads of State of the twelve countries confirmed their political will to accelerate integration in the Central and Eastern European region within the EU by ensuring greater connectivity among the participant countries along the North-South axis.
President Radev will continue with his visit by participating in the World Forum in Warsaw, organized by the Atlantic Council.
MORE FROM NEWS
4 December 2023 | 17:33
President Rumen Radev honours Argentine Ambassador with the Order of the Madara Horseman, First Class
0
3
2 December 2023 | 13:12

President Rumen Radev: The Transition to a Green Economy Must Not Lead to Compromises with the Standard and Quality of Life of Citizens and Competitiveness
0
2
2 December 2023 | 11:33

President: Nuclear Energy Gives and Delivers Sovereignty, Autonomy and Security
0
9
1 December 2023 | 18:01
Radev and Mitsotakis Discuss the Acceleration of Strategic Projects Linking Bulgaria and Greece
0
1
1 December 2023 | 17:52

President: Sustainable Solutions to Climate Change Require Knowledge, Technology Transfer and Collective Action
0
6
1 December 2023 | 14:40
Radev Discusses Mounting Tensions in the Middle East with King Abdullah II of Jordan
0
1
24 November 2023 | 16:25

Vice President: Bulgarian Schools Abroad Preserve the Bulgarian Spirit
0
5
24 November 2023 | 10:32

Iliana Iotova Awards the Vice President's Plaque to the Bulgarian Secondary School in Bratislava
0
2