NEWS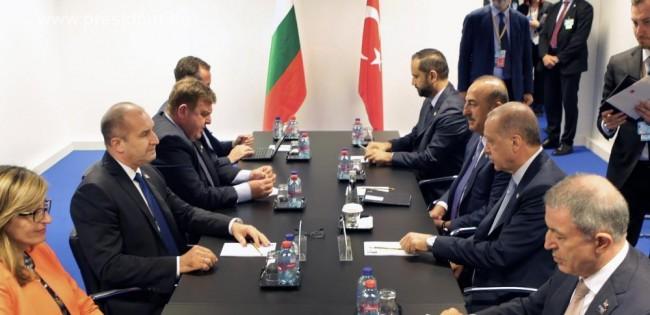 12 July 2018 | 16:51
Rumen Radev: Turkey is Bulgaria's Important Neighbor, Partner and Ally and it is Essential for our Bilateral Relations that We do not Leave Unsolved Problems
Turkey is Bulgaria's important neighbor, partner and ally and it is essential for our bilateral relations that we do not leave unsolved problems between the two countries. This is what President Rumen Radev said at a meeting with the President of Turkey Recep Tayyip Erdogan held within the NATO summit in Brussels. At the talks the Bulgarian Head of State recalled that it is our neighbor Turkey's turn to specify a date and host the meeting of the bilateral intergovernmental commission on the unsolved property and social issues among which is providing compensations for the property of the Thracian refugees.
Bulgaria is ready to offer financial assistance for the activity of the clergy of the constitutionally recognized religious communities in our country, President Radev emphasized. The Head of State extended gratitude to his counterpart President Recep Tayyip Erdogan for the support provided by Turkey to our country for paying the salaries of the Muslim clerics throughout the years when Bulgaria could not afford it. The Bulgarian Head of State briefed his Turkish counterpart on the bill tabled in the National Assembly on amendments in the Denomination Act. "Since I took office I have insisted that such a law be adopted and hopefully during the debates in the National Assembly the best solution will be found, which will promote the integration of the different religious communities in Bulgarian society. This includes allocating funds by the Bulgarian state to meet their needs," Rumen Radev said. The guarantee for our good relations lies in respecting the domestic political process concerning the activities of parties and the election process, he further clarified.
The two presidents were unanimous that the registered over 5.5 billion dollars trade in 2017 does not meet the potential of the two countries. In President Erdogan's view, reaching 10 billion dollars is a real opportunity and requires joint efforts in this direction.
"The natural continuation of the Turkish Stream gas pipeline is through Bulgaria and the two governments should work in a constructive manner to this end," President Radev further called for.
I reply to a journalist's question after the end of the meeting regarding why was he the only president of an EU member state present at the inauguration ceremony of President Recep Tayyip Erdogan, Rumen Radev said that neither the European Commission, nor the Bulgarian government have ensured his term in office. "I have been elected for this position by the Bulgarian people and I am acting on behalf of the people," the Head of State emphasized.
MORE FROM NEWS
30 September 2022 | 18:56

Presidents Rumen Radev and Ilham Aliyev: Energy and transport connectivity is key to tackling the crisis
0
6
26 September 2022 | 18:57
President Radev and his Egyptian counterpart discuss bilateral cooperation in energy and economy
0
1
8 September 2022 | 17:32

Presidents Radev and Iohannis discuss energy connectivity and the prospect of Bulgaria and Romania joining Schengen
0
1
8 September 2022 | 15:25

President Rumen Radev discussed at a meeting with energy company Lukoil, stabilising the economic environment and combating inflation
0
1
5 September 2022 | 19:21

President Rumen Radev and North Macedonia's Prime Minister discussed electricity supplies and joint economic projects
0
3
2 September 2022 | 08:55

Head of State Rumen Radev meets with UAE President Sheikh Mohamed bin Zayed Al Nahyan
0
5
1 September 2022 | 17:23
Rumen Radev: The strategic partnership between Bulgaria and the UAE gives a prospect for the trust in bilateral relations to be transformed into real results
0
3