NEWS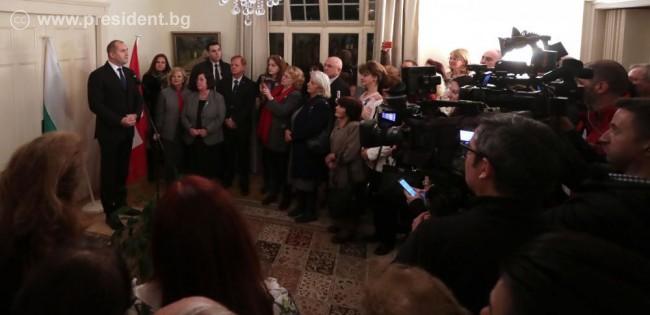 21 February 2019 | 21:49
The President Told Our Compatriots in Bern: I am convinced that Bulgaria may Become a Place Where the Young Generations will Want to Study, Work and Live
I am convinced that sooner or later Bulgaria will become a place where the young generations will want to study, work and live. In today's global world, joint efforts are necessary to succeed in achieving a high standard and conditions of living for the next generations. This is what Head of State Rumen Radev said at a meeting with representatives of the Bulgarian community in Switzerland.
The President highlighted the establishment of efficient institutions, a transparent and just social and business environment, and also a united society as necessary conditions ensuring that Bulgaria can practically join the successful countries. In the Head of State's words, a lot of Bulgarians work in international organizations, in the bank sector, the medical services, the computer technologies, culture, art and science spheres in Switzerland and the assistance they offer is crucial for the development of the relations between Bulgaria and Switzerland. "You can be extremely beneficial with the valuable experience you possess in developing technologies, science and art. You should know that we rely on you," Rumen Radev emphasized.
"I thank you for not forgetting your roots, and also for the preserved connection with your homeland, the preserved national self-awareness and the sense of community. These are manifested in the fact that Bulgarian schools have been opened in a lot of Swiss cities," the President further said and highlighted the role of the Bulgarian church communities St. George the Victor, Nativity and other civil associations that preserve our folklore traditions.
At the meeting the representatives of the Bulgarian community in Bern raised a lot of issues pertaining to the opportunity for our country to promote the development of information technologies, for preserving the ties with the Bulgarian communities abroad and facilitating the study of the Bulgarian language abroad. Taking a question related to whether he will impose a veto on the Electoral Code, the President said that he has entrusted his team to carefully examine the amendments proposed. "This is an extremely important law and the foundations of our democracy depend on it," the President commented and emphasized that his decision on the amendments made of the Electoral Code will be in favor of the public interest.
MORE FROM NEWS
16 September 2019 | 14:42

Bulgaria and Indonesia will Expand the Bilateral Trade in Information Technologies, Education and Tourism
0
2
11 September 2019 | 19:10
President Radev: Bulgaria and Greece Should Pool Efforts to Reform the EU's Migration Policy
0
2
11 September 2019 | 16:43
President Rumen Radev: The Family is the Best and Most Irreplaceable Environment for Bringing up Children
0
2
10 September 2019 | 16:39

President Rumen Radev: The Portuguese Investments in Plovdiv Create Hundreds of Jobs and Prospects for the Young People
0
2
3 September 2019 | 12:14

The President: The Relations between Bulgaria and Greece are Evidence how a Strategic Partnership can be Built in the Balkans in the Spirit of Mutual Trust
0
5
1 September 2019 | 17:39

Bulgaria and Georgia will Work to Increase Connectivity, Trade and Tourism in the Black Sea Region
0
1
1 September 2019 | 16:49

Rumen Radev: it is Obligatory to Preserve the Memory about the Horrors of World War II against the Backdrop of Today's Fierce Arguments over World Leadership
0
5