NEWS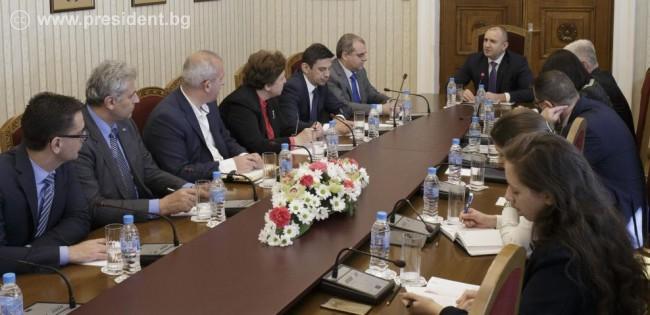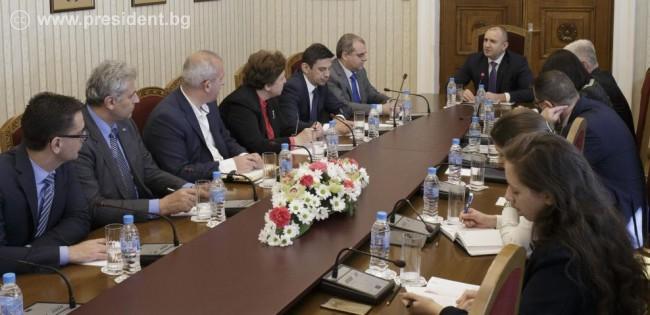 17 April 2019 | 15:50
President Radev: Bulgaria Should Have Ready for Implementation Infrastructure Projects, so that We do not Miss the Opportunity for Big Foreign Investments
The State of Qatar has the will and interest to invest in the Bulgarian transport infrastructure. However, our country should prepare and convincingly present its investments projects to this end. Without concrete technical parameters, financial analyses and time limits we cannot attract big international investors. This is what President Rumen Radev said at a meeting with Assembly deputies from the Committee on Regional Policy, Urban Development and Local Self-Government and the Committee on Transport, Information Technology and Communications.
The Head of State briefed the Assembly deputies on the results of his official visit to Qatar, where he was at the invitation of Emir Sheikh Tamim bin Hamad Al Thani from 10 to 12 April 2019. At the talks I held in Doha with the Emir, the Prime Minister and the Transport Minister of Qatar, and also with the CEO of the Qatar Investment Authority the topic was raised about partnership in building the road infrastructure in Bulgaria in the North-South direction, Rumen Radev said.
The President highlighted the excellent political relations between Bulgaria and Qatar, including personal contacts and stressed the declared readiness of the Arab country to make investments in the Ruse-Svilengrad highway and the tunnel under Shipka. "Although Qatar shows an interest in and will invest funds, this will happen only if Bulgaria presents topical projects, ready for implementation," the President said. He called on the Assembly deputies in coordination with the executive branch of government to take more expeditious and efficient actions to achieve the necessary progress.
The government and Parliament are the driving force of the discussed projects and I assume the commitment to offer assistance on the top political level so that our ready offers can be presented to the Qatari side, Rumen Radev said.
The Assembly deputies assumed the commitment to initiate a joint meeting of the two committees by inviting representatives of all institutions in charge to hold a debate on the topic.
MORE FROM NEWS
16 September 2019 | 14:42

Bulgaria and Indonesia will Expand the Bilateral Trade in Information Technologies, Education and Tourism
0
2
11 September 2019 | 19:10
President Radev: Bulgaria and Greece Should Pool Efforts to Reform the EU's Migration Policy
0
2
11 September 2019 | 16:43
President Rumen Radev: The Family is the Best and Most Irreplaceable Environment for Bringing up Children
0
2
10 September 2019 | 16:39

President Rumen Radev: The Portuguese Investments in Plovdiv Create Hundreds of Jobs and Prospects for the Young People
0
2
3 September 2019 | 12:14

The President: The Relations between Bulgaria and Greece are Evidence how a Strategic Partnership can be Built in the Balkans in the Spirit of Mutual Trust
0
5
1 September 2019 | 17:39

Bulgaria and Georgia will Work to Increase Connectivity, Trade and Tourism in the Black Sea Region
0
1
1 September 2019 | 16:49

Rumen Radev: it is Obligatory to Preserve the Memory about the Horrors of World War II against the Backdrop of Today's Fierce Arguments over World Leadership
0
5