NEWS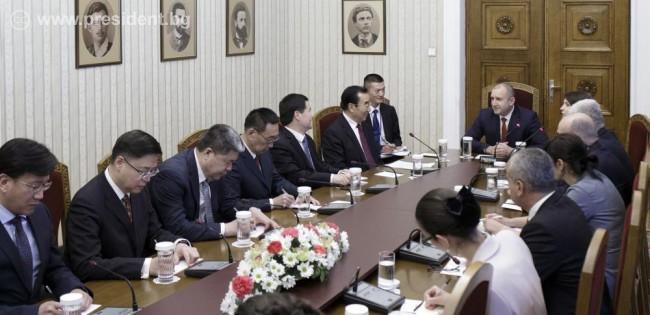 18 April 2019 | 17:36
President Rumen Radev Held Talks with Zhang Qingli, Vice Chairperson of the National Committee of the Chinese People's Political Consultative Conference
"We are very impressed by China's achievements in the economic development, overcoming poverty, raising the level of prosperity of a great number of social strata, the measures taken to improve the environment and the control on pollution, and also in enhancing the role of innovations." This is what Rumen Radev said, who held talks with Zhang Qingli, Vice Chairperson of the National Committee of the Chinese People's Political Consultative Conference at 2 Dondukov street today. His visit coincides with the marking of the 70th anniversary of the establishment of diplomatic relations between Bulgaria and the People's Republic of China.
Bulgaria and China enjoy excellent political relations based on traditional friendship, mutual trust and respect, was the stance shared by the two at the meeting. In the course of the talks Radev said that Bulgaria strictly adheres to the principle of "One China. "
"Bulgaria supports the "One Belt One Road" initiative and is willing to be part of it by implementing infrastructure projects in the country," the Head of State said and added that Bulgaria also actively contributes to the development of the Initiative for Cooperation between China and Central and Eastern European countries in the 17+1 format and considers it as complementary to the EU-China relations and the comprehensive strategic partnership EU-China.
President Rumen Radev recalled that during the visit of the Prime Minister of the People's Republic of China Li Keqiang in Bulgaria on 6 July 2018, the two shared the idea to establish a Center for studying the compatibility between the European and Chinese norms in Sofia. Its aim will be to coordinate future projects in spheres of mutual interest between the EU and the Central and Eastern European countries, and also to identify the optimal ways to implement Chinese investments in the region, in line with EU rules and principles.
"We will pool efforts to ensure the implementation of all joint initiatives so that we can give an impetus to the practical cooperation in different spheres," Zhang Qingli said at the meeting. President Radev, for his part, said that adopting such a comprehensive approach in bilateral relations will result in a deeper trade cooperation and boosting the Chinese investments in Bulgaria.
Expanding the cooperation in the spheres of education, culture and agriculture was also discussed at the talks. "The direct air flight between Sofia and Beijing will facilitate the exchange of tourists and the connectivity between our friendly peoples," Rumen Radev told his guest.
At the meeting President Radev renewed his invitation to the President of the People's Republic of China Xi Jinping to visit Bulgaria at a time convenient for him.
MORE FROM NEWS
16 September 2019 | 14:42

Bulgaria and Indonesia will Expand the Bilateral Trade in Information Technologies, Education and Tourism
0
2
11 September 2019 | 19:10
President Radev: Bulgaria and Greece Should Pool Efforts to Reform the EU's Migration Policy
0
2
11 September 2019 | 16:43
President Rumen Radev: The Family is the Best and Most Irreplaceable Environment for Bringing up Children
0
2
10 September 2019 | 16:39

President Rumen Radev: The Portuguese Investments in Plovdiv Create Hundreds of Jobs and Prospects for the Young People
0
2
3 September 2019 | 12:14

The President: The Relations between Bulgaria and Greece are Evidence how a Strategic Partnership can be Built in the Balkans in the Spirit of Mutual Trust
0
5
1 September 2019 | 17:39

Bulgaria and Georgia will Work to Increase Connectivity, Trade and Tourism in the Black Sea Region
0
1
1 September 2019 | 16:49

Rumen Radev: it is Obligatory to Preserve the Memory about the Horrors of World War II against the Backdrop of Today's Fierce Arguments over World Leadership
0
5