NEWS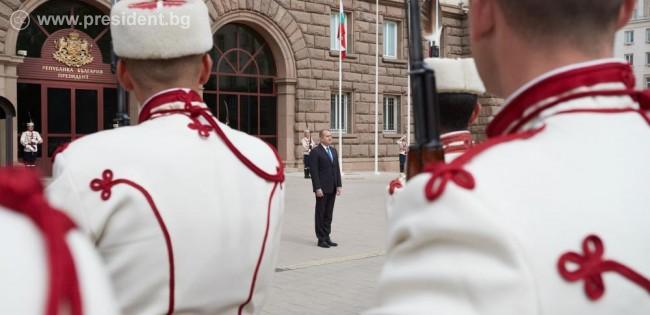 9 May 2019 | 10:38
Rumen Radev: The EU's Greatest Achievement is the Preservation of Peace in Europe for More than Seven Decades Already
The European Union is Europe's greatest achievement and the EU's greatest achievement is the preservation of peace in Europe for more than seven decades already. This is what President Rumen Radev told journalists today after he took part in the wreath-laying ceremony in front of the monument of the Unknown Soldier in Sofia on the occasion of the 74th anniversary of the victory over Nazism.
"Today is a holiday and we are marking the Day of Victory and the Day of Europe. The great idea of united Europe could not have been realized without the victory over Hitler's fascism," the Head of State said. Rumen Radev added that we should respect the memory of the millions of victims in the fight against Nazism and not forget the contribution of Bulgaria. "Thousands of Bulgarians died in World War II and today we should pay tribute to their memory and extend our gratitude to the live Bulgarian veterans, who continue to be an example of patriotism and commitment to the homeland," President Radev said.
Later at a solemn ceremony the flag of the EU was raised in front of the presidential institution. The ceremony was attended by Head of State Rumen Radev, Assembly deputies, representatives of the executive branch of government and a lot of citizens.
MORE FROM NEWS
16 September 2019 | 14:42

Bulgaria and Indonesia will Expand the Bilateral Trade in Information Technologies, Education and Tourism
0
2
11 September 2019 | 19:10
President Radev: Bulgaria and Greece Should Pool Efforts to Reform the EU's Migration Policy
0
2
11 September 2019 | 16:43
President Rumen Radev: The Family is the Best and Most Irreplaceable Environment for Bringing up Children
0
2
10 September 2019 | 16:39

President Rumen Radev: The Portuguese Investments in Plovdiv Create Hundreds of Jobs and Prospects for the Young People
0
2
3 September 2019 | 12:14

The President: The Relations between Bulgaria and Greece are Evidence how a Strategic Partnership can be Built in the Balkans in the Spirit of Mutual Trust
0
5
1 September 2019 | 17:39

Bulgaria and Georgia will Work to Increase Connectivity, Trade and Tourism in the Black Sea Region
0
1
1 September 2019 | 16:49

Rumen Radev: it is Obligatory to Preserve the Memory about the Horrors of World War II against the Backdrop of Today's Fierce Arguments over World Leadership
0
5