NEWS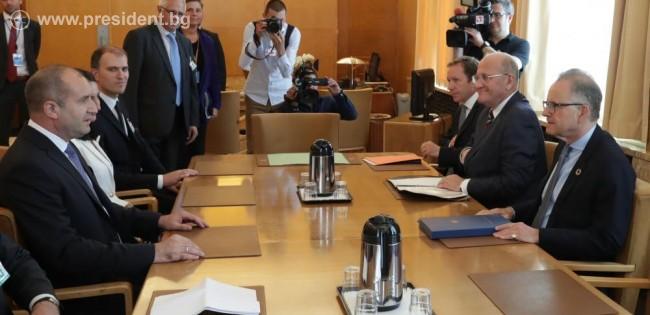 24 June 2019 | 17:38
Rumen Radev Called on Member States To Support the UN Mechanisms for Resolving the International Crises
Although the UN is not the perfect tool for resolving international crises, there is no better one. The member states should support the UN's efforts in this respect, so that we can strengthen its mechanisms. This is what President Rumen Radev told Bulgarian journalists in Geneva after he held bilateral meetings in the UN office at Geneva. The Head of State is in Switzerland to take part in the 41st session of the UN Council on Human Rights.
President Rumen Radev held talks with Michael Moller, Director General of the UN Office at Geneva, with whom they discussed the UN efforts to resolve the contemporary challenges, related to migration and refugees, starvation, the negative effects of globalization, the hot or frozen conflicts. "The UN is the basic forum for tackling these acute problems," the Head of State said.
Among the topics discussed with Michael Moller was also establishing an International institute for sustainable technologies in Southeast Europe, the efforts for the establishment of which President Radev has supported for almost two years. "Eighteen months ago I proposed that 10 countries from the region should draw up a memorandum to be signed by all prime ministers of the Southeast European countries to establish an institute and a research laboratory. It has not been signed yet," Rumen Radev said and added that he expects that the Bulgarian government be more active in support of the scientific infrastructure and the development of world science in the region.
Michelle Bachelet, UN High Commissioner for Human Rights, and President Rumen Radev also held a meeting today, at which they discussed Bulgaria's priorities and positions vis-à-vis respecting human rights. The periodical review that the organization makes of the member states is useful for Bulgaria because it gives us directions as to how to develop our basic activities, the Head of State said.
Bulgaria is member of the UN Council on Human Rights for the first time, which is a recognition of our country's efforts in this sphere, Rumen Radev said. "I am here to support the multilateral approach in international relations, which has been subject to a particularly strong pressure over the past years," the President further said.
MORE FROM NEWS
14 May 2020 | 18:21

President Rumen Radev Discussed with Ambassador Herro Mustafa the Prospects for the Development of the Strategic Partnership between Bulgaria and the USA
0
1
8 May 2020 | 15:43
Rumen Radev: the Support for the Republic of North Macedonia's European Integration Cannot be Offered at the Expense of the Bulgarian History and Language
0
2
7 May 2020 | 14:23
Presidents Rumen Radev and Borut Pahor Discussed the Measures Adopted in Bulgaria and Slovenia for Tackling the Social and Economic Consequences Caused by the Coronavirus
0
1
26 April 2020 | 17:52

The Slovenian President to the Bulgarian Head of State: We Are Solidary in the Common Fight against the Coronavirus, Bulgarians Showed Courage and Resolution
0
1
23 April 2020 | 14:24
Presidents Rumen Radev and Salome Zourabichvili Discussed Bulgaria's and Georgia's Readiness to Boost Bilateral Trade after the Coronavirus
0
1
15 April 2020 | 17:05

The Presidents of Bulgaria and Romania Rumen Radev and Klaus Iohannis Discussed the Efficient Supplies of Food and Raw Materials in the Conditions of Crisis
0
1