NEWS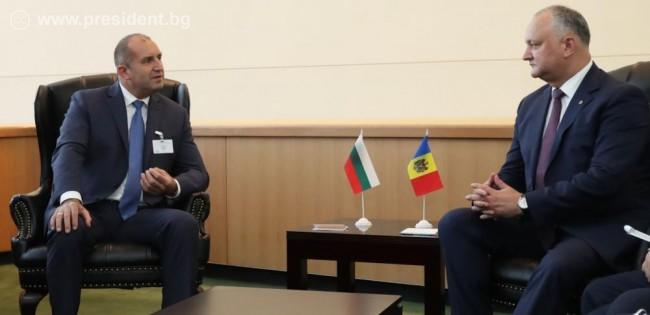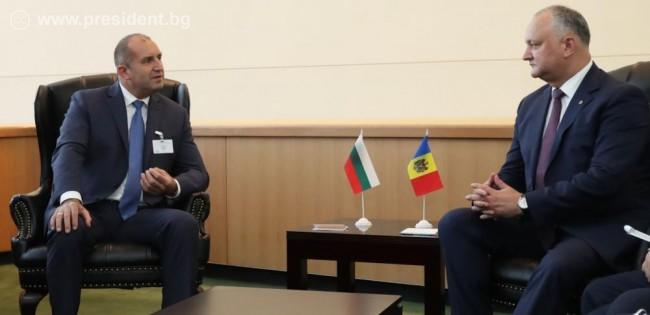 24 September 2019 | 09:49
President Radev was Assured by his Moldovan Counterpart that the Status of the Taraclia District, populated by Bulgarians, will be Preserved
President Rumen Radev was categorically assured by his Moldovan counterpart Igor Dodon that the territorial and administrative reform undertaken by Moldova will not affect the status and integrity of the Taraclia district, which is populated by ethnic Bulgarians. The topic of the rights of the Bulgarian minority in Moldova was raised by the Bulgarian President at his meeting with Igor Dodon, which was held in New York within the 74th regular session of the UN General Assembly.
At the talks the close friendly relations and the active political dialogue between the two countries was highlighted. The two Presidents stressed the positive contribution to the bilateral cooperation of the large Bulgarian diaspora in Moldova, which is fully integrated. In President Radev's words, the preservation of the current status of Taraclia, where 63,000 ethnic Bulgarians live, is vital for them and for the preservation of their national, cultural and language identity.
President Radev was also assured that the Moldovan side will do its best so that the Gregory Tsamblak University of Taraclia is transformed into a branch of the Angel Kanchev University of Ruse. Before Rumen Radev's visit to Moldova, planned for 2020, a Bulgarian delegation will visit the University to specify the details concerning the transformation. Rumen Radev also raised the topic of improving the teaching conditions at the University of Taraclia, of expanding the majors and the forms of teaching.
MORE FROM NEWS
22 September 2021 | 08:11

The President: Unprecedented global challenges require joint actions by the international community
0
1
1 September 2021 | 18:58
Rumen Radev: Respect for the freedom of self-determination of the citizens of the Republic of North Macedonia with Bulgarian identity is the key to the country's European integration
0
5
9 August 2021 | 16:22

The President: Partnering with Azerbaijan Strengthens Energy Diversification Not Only for Bulgaria, but for the EU As Well
0
1
3 August 2021 | 17:00

The Presidents of Bulgaria and Turkey Discussed the Complicated Wildfire Situation and Decreasing The Pressure of Migration
0
1
3 August 2021 | 13:51

President Rumen Radev Held a Phone Call With his Armenian Counterpart Armen Sarkissian
0
1
22 July 2021 | 18:12

The President: Ending Discrimination Against Bulgarians in the Republic of North Macedonia Will be a Sign of the Country's European Maturity
0
3