NEWS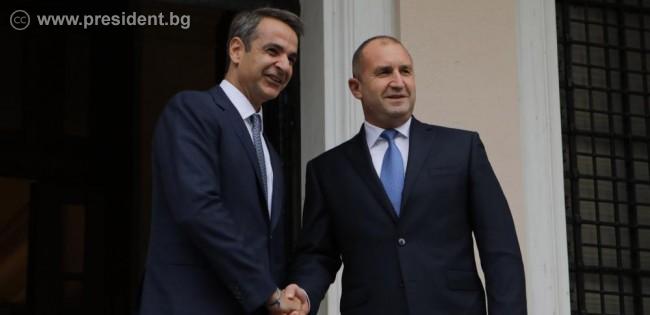 10 October 2019 | 20:17
President Radev and Greek Prime Minister Mitsotakis Discussed the Bilateral Partnership in the Security Sphere and the Increased Migratory Pressure towards Europe
The two reached a principled agreement that the Bulgarian and Greek Air Forces will cooperate to protect the air space of the Republic of North Macedonia
Head of State Rumen Radev and Greek Prime Minister Kyriakos Mitsotakis discussed the partnership between Bulgaria and Greece in the security sphere and the increased migratory pressure towards Europe. The two were unanimous that the registered increase of the migration flows in Southeastern Europe requires joint efforts on the part of the affected countries and a timely reaction and support by the European Union to protect the external European borders. Rumen Radev reiterated that the EU should draft an action plan in case of an abrupt increase of the migratory pressure along the land borders of the Union and Bulgaria and Greece should pool efforts to this end.
The common stance shared by Rumen Radev and Kyriakos Mitsotakis was that the two countries share relations of strategic partnership and will continue to deepen their cooperation in the defense sphere. The two reached a principled agreement that the Bulgarian and Greek Air Forces should cooperate also to protect the air space of the Republic of North Macedonia. The Bulgarian President and the Greek Prime Minister highlighted as a common priority strengthening the stability and security in Southeastern Europe, which requires the further support for the European prospects of the Western Balkan countries, meeting the membership criteria, and irreversibility of the process of development of good-neighborly relations in the region.
The talks also focused on energy diversification, the construction of the inter-systemic gas connector between Bulgaria and Greece and the transport connectivity in the region. Rumen Radev and Kyriakos Mitsotakis also discussed the opportunity for the Bulgarian side to take part in a future privatization of the port in Alexandroupolis.
The escalation of tension in the Middle East was also commented at the meeting and the two shared the stance that a peaceful solution to the critical situation should be found.
The Bulgarian President is on a working visit to Greece to take part in the summit of the heads of state of the Arraiolos group, which will be held in Athens tomorrow.
MORE FROM NEWS
15 June 2020 | 16:34
Presidents Rumen Radev and Janos Ader Discussed the Quicker Tackling of the Social and Economic Consequences of the Coronavirus in Bulgaria and Hungary
0
1
8 June 2020 | 14:26

The Formation of a Joint Team for Building a Bulgarian-Chinese Innovations Hub in Sofia was Agreed upon at a Meeting Held at President Rumen Radev's Office
0
2
28 May 2020 | 19:15
President Radev at a Forum of World Leaders: Tackling the Coronavirus Crisis Requires Strengthened Multilateralism and International Cooperation
0
1
14 May 2020 | 18:21

President Rumen Radev Discussed with Ambassador Herro Mustafa the Prospects for the Development of the Strategic Partnership between Bulgaria and the USA
0
1
8 May 2020 | 15:43
Rumen Radev: the Support for the Republic of North Macedonia's European Integration Cannot be Offered at the Expense of the Bulgarian History and Language
0
2
7 May 2020 | 14:23
Presidents Rumen Radev and Borut Pahor Discussed the Measures Adopted in Bulgaria and Slovenia for Tackling the Social and Economic Consequences Caused by the Coronavirus
0
1