NEWS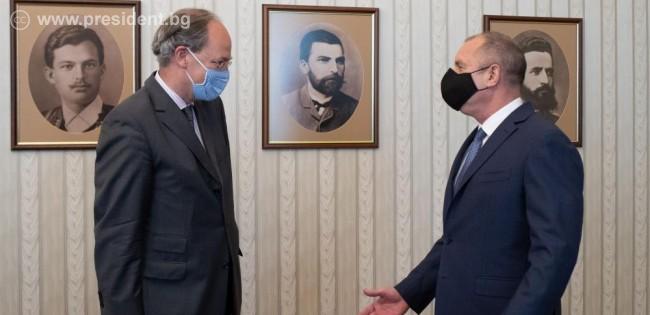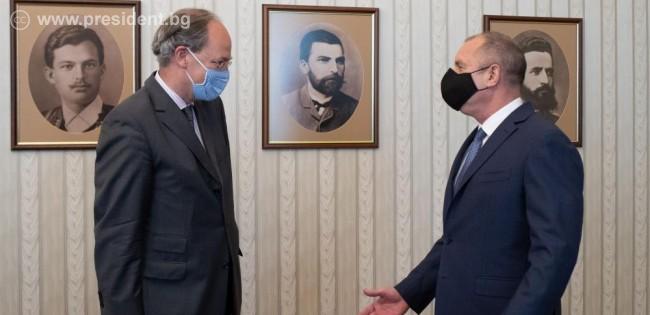 22 April 2021 | 16:13
President Rumen Radev Held a Working Meeting with German Ambassador Christoph Eichhorn
The Head of State, Mr. Rumen Radev held a working meeting at the Presidency with the Ambassador of the Federal Republic of Germany to Bulgaria, His Excellency Mr. Christoph Eichhorn.

Bilateral economic cooperation, the perspectives for sustainable development of the business climate in Bulgaria, as well as the potential to increase added value in factories opened with German investments in the country were all among the focal points of the meeting. Both sides shared the assessment of the large community of four hundred thousand Bulgarian citizens living and working in Germany but remaining closely tied with their homeland as a real factor in the transfer of new knowledge, skills and models for the development of the business environment in Bulgaria.

The energy transformation within the EU and the approaches for establishing a modern and carbon neutral energy sector while considering the social aspects of this long-term process were also discussed during the meeting. The President and the Ambassador also exchanged opinions on the EU enlargement policies, as well as on the upcoming Three Seas Initiative Summit to be held in Sofia, an Initiative in which Germany is a strategic partner.



MORE FROM NEWS
14 June 2021 | 21:04

President Rumen Radev: I Do Not See the Future of NATO as a Market, But as an Alliance of Partners
0
1
14 June 2021 | 21:02

President Rumen Radev Met with the Prime Minister of the Republic of North Macedonia Mr. Zoran Zaev in Brussels
0
4
14 June 2021 | 15:18

The Head of State: The Main Factor for the Security of All NATO Member States Is Unity, Including in Developing Cutting-Edge Defence Technologies
0
1
11 June 2021 | 18:56

President Rumen Radev Held a Phone Call with US Secretary of State Antony Blinken
0
1
10 June 2021 | 15:33

Rumen Radev: Eastern Europe Needs Investment and the Active Dialogue at the Highest Level Within the Three Seas Initiative Is a Message to Business
0
3
8 June 2021 | 16:35

The Head of State: Transport, Energy and Digital Connectivity Between Countries Affects the Standard of Living of Their Citizens
0
3
8 June 2021 | 16:08

President Rumen Radev Held a Meeting with Judges from the Constitutional Court of the Republic of North Macedonia
0
3