NEWS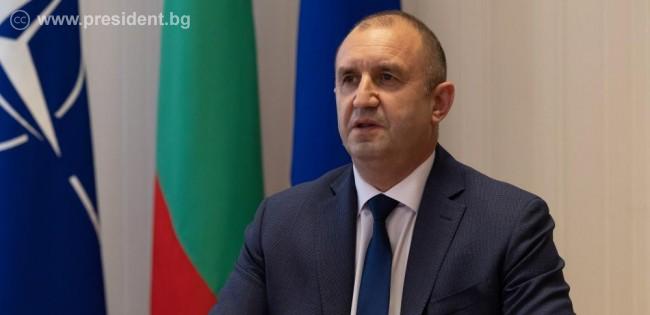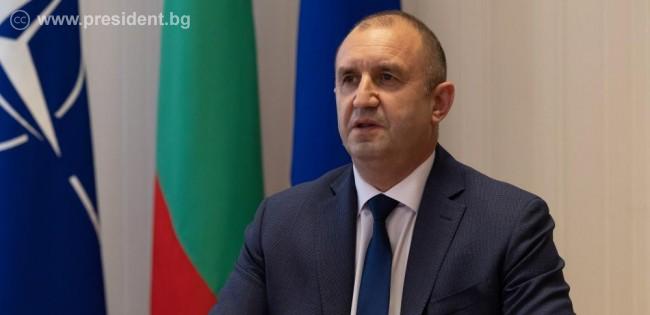 10 May 2021 | 21:32
The President: The European Security Pillar Must Be in Line with NATO's Development and Requires Adequate Technological and Industrial Capabilities
Rumen Radev participated in a high-level videoconference meeting with B-9 countries
Building a reliable European security and defence pillar must be in line with NATO's development. In order to guarantee adequate defence, we must increase the technological and industrial independence, as well as identify the national critical infrastructures, stated President Rumen Radev today at a videoconference meeting with the leaders of the Bucharest 9.
Bulgaria, Czech Republic, Estonia, Hungary, Latvia, Lithuania, Poland, Romania and Slovakia exchanged opinions and coordinated their positions within the international forum ahead of the upcoming NATO Summit in Brussels in June. US President Joe Biden was a special guest and NATO Secretary General Jens Stoltenberg also delivered remarks.
State and government leaders reiterated the common commitment to modernising defence forces, as well as to actively participating in the building of a defence architecture, guaranteeing strategic stability on the European continent.
According to President Radev, the strong commitment of partners worldwide is important to the allied activities. The Head of State emphasised the significant importance of the Western Balkan region to Bulgaria. Mr. Rumen Radev also outlined the role of the Alliance for crisis management missions in Afghanistan, the Balkans, the Middle East and the Mediterranean Sea. The challenges facing the political and economic stability in the region require deepening the dialogue, practical cooperation and support for strengthening sustainability, the President further added.
In extremely important times for our security, the Alliance has managed to strengthen its political dimension and shown that nowadays security is not simply military reliability, but much more, Mr. Rumen Radev said. In its history, NATO has always proven its effectiveness and strength in its ability to adapt its strategic vision and necessary practical actions according to the current challenges. In this regard, the Bulgarian Head of State outlined the importance of the NATO 2030 Strategy for strengthening the global role of the alliance and adapting to the new challenges in the next decade.
The participants in the forum agreed on the position that NATO's Open Door Policy must remain and that the countries striving for full-fledged membership must be supported in fulfilling the necessary conditions.
A joint declaration outlining the framework of the future partnership of B-9 countries and their readiness to contribute to the implementation of the new NATO 2030 Strategy was adopted during the high-level meeting.
MORE FROM NEWS
22 July 2021 | 18:12

The President: Ending Discrimination Against Bulgarians in the Republic of North Macedonia Will be a Sign of the Country's European Maturity
0
3
14 July 2021 | 18:19

The Head of State: Japanese Investments Are an Opportunity to Develop a Qualitatively New Model of Business Relations in Bulgaria
0
1
9 July 2021 | 18:02

Rumen Radev and Andrej Plenkovi?: Bulgaria and Croatia Will Unite Efforts in Deepening the European Integration of Both Countries
0
2
9 July 2021 | 17:57

Rumen Radev to Margrethe Vestager: The Revised Bulgarian Recovery and Resilience Plan Focuses on Modernisation, Not Fund Absorption
0
3
9 July 2021 | 17:50

Rumen Radev: The Three Seas Initiative Must Work for Common Quality, Reliability and Sustainability Standards in Implementing Joint Infrastructure Projects
0
1
9 July 2021 | 16:50
Rumen Radev: Bulgaria Hosted the Three Seas Initiative at a Key Moment When Dialogue Led to the Practical Implementation of Joint Projects
0
3
9 July 2021 | 11:31

President Rumen Radev: Implementing the Three Seas Priority Projects Will Be a Decisive Game Changer in the Sustainable Development of the Region and Europe
0
6
9 July 2021 | 11:20
President Rumen Radev: Bulgaria Is Striving to Attract More US Investments in IT and Innovations
0
3