NEWS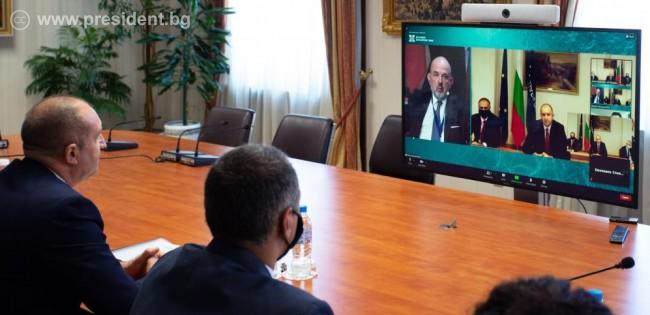 18 May 2021 | 13:11
The President: The Increased Business Interest in the Three Seas Initiative Shows the Region's Potential
Thanks to the joint efforts of the 12 countries between the Black, Adriatic and Baltic Seas, the Three Seas Initiative (3SI) creates the opportunity for economic growth, connectivity between the countries, and social and economic cohesion. With political leadership and the joint actions of business and NGOs we can improve the living standard of people in the region, stated President Rumen Radev, while opening an international conference on the funding opportunities of the 3SI Investment Fund.

The Head of State declared that strengthening the 3SI Investment Fund and attracting the investment advisor (Amber Infrastructure Group) marks the transition of the Initiative from political talk to real actions. Business is a key participant, Mr. Rumen Radev pointed out, and added that the interest of different countries worldwide in the initiative is growing, which is based on the huge potential of our region.

Bulgaria looks beyond the geographical and time limits of the region in order to find intelligent development of projects in the initiative, President Rumen Radev stated, while presenting the priorities of Bulgaria as a host of 3SI. He further added that new opportunities for the region's advancement must be sought and this is why Bulgaria invited Greece as a guest at the 3SI Summit our country will host this year in Sofia. We should provide for connectivity all throughout the North-South path and important transport, energy and digital connections pass through our border with Greece, Mr. Rumen Radev declared, and emphasised that the region should take advantage of the potential of ports and liquified natural gas terminals in Greece.

The President also focused on another main priority of Bulgaria as a host – connectivity in the field of science, education, technology and innovation. "We must seek intelligent solutions looking forward to the coming 20-30 years. The next step is to work with young people and connect organisations and institutions that work with innovations," the President outlined, and emphasised that the approach must be aimed at integrating innovative solutions in the field of transport, energy and digital connectivity while mobilising human capital and businesses. The President also noted the importance of strengthening the 3SI relationship with its strategic partners – the USA, the European Commission and Germany.



MORE FROM NEWS
22 July 2021 | 18:12

The President: Ending Discrimination Against Bulgarians in the Republic of North Macedonia Will be a Sign of the Country's European Maturity
0
3
14 July 2021 | 18:19

The Head of State: Japanese Investments Are an Opportunity to Develop a Qualitatively New Model of Business Relations in Bulgaria
0
1
9 July 2021 | 18:02

Rumen Radev and Andrej Plenkovi?: Bulgaria and Croatia Will Unite Efforts in Deepening the European Integration of Both Countries
0
2
9 July 2021 | 17:57

Rumen Radev to Margrethe Vestager: The Revised Bulgarian Recovery and Resilience Plan Focuses on Modernisation, Not Fund Absorption
0
3
9 July 2021 | 17:50

Rumen Radev: The Three Seas Initiative Must Work for Common Quality, Reliability and Sustainability Standards in Implementing Joint Infrastructure Projects
0
1
9 July 2021 | 16:50
Rumen Radev: Bulgaria Hosted the Three Seas Initiative at a Key Moment When Dialogue Led to the Practical Implementation of Joint Projects
0
3
9 July 2021 | 11:31

President Rumen Radev: Implementing the Three Seas Priority Projects Will Be a Decisive Game Changer in the Sustainable Development of the Region and Europe
0
6
9 July 2021 | 11:20
President Rumen Radev: Bulgaria Is Striving to Attract More US Investments in IT and Innovations
0
3