NEWS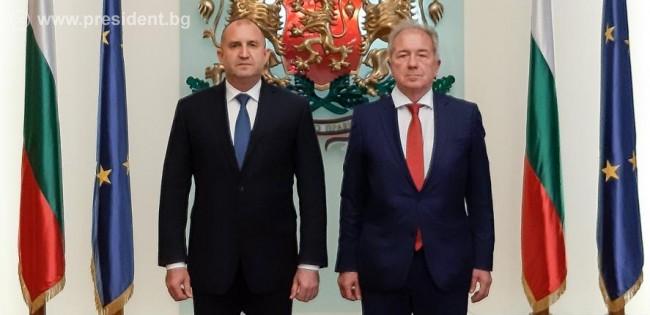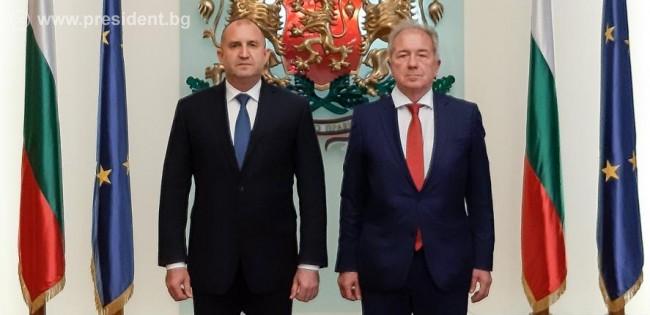 8 September 2021 | 11:40
The Head of State will be a guest at a formal session in Sofia of the Committee of Plenipotentiaries of the governments of the Joint Institute for Nuclear Research (JINR) based in Dubna, Russian Federation
Head of State Rumen Radev held a meeting at 2 Dondukov Blvd. with JINR Vice President Lachezar Kostov at which the two discussed the prospects for developing the partnership between Bulgaria and the JINR in the field of fundamental and applied research.

Bulgaria has proven its role in the Institute's activities and research - for nearly 65 years over 500 Bulgarian physicists, engineers, mathematicians, chemists, biologists, etc. have worked at the JINR. Every year, nearly 100 Bulgarian scientists visit the laboratories of the organisation, each of which is comparable in the scope of its activities to a large research institute.

During the meeting, President Rumen Radev accepted the invitation extended by Lachezar Kostov to be an official guest at a formal session in Sofia of the Committee of Plenipotentiaries of the Governments of the JINR. The forum will be held in November this year. 2021 has been declared the year of Bulgaria by the Joint Institute for Nuclear Research and the participation of the Head of State in the formal session is a recognition of Bulgaria's role in the development of nuclear research and fundamental sciences worldwide.

MORE FROM NEWS
28 September 2023 | 17:52

President Holds Meeting with EU Commissioner Ivanova
0
3
28 September 2023 | 15:49

President Rumen Radev Meets with Samsung Corporation Officials
0
1
25 September 2023 | 16:27

Rumen Radev: The EU-Vietnam Agreement on Investment Protection Opens favourable prospects for Bulgaria's economic cooperation with a trusted partner
0
3
24 September 2023 | 19:11

Radev Holds a Talk with Kosovo President
0
1
21 September 2023 | 08:41
Rumen Radev: Bulgaria and the Republic of Korea Have Potential for Further Expansion of Partnership in Industry and High Technologies
0
2
21 September 2023 | 08:36

President Rumen Radev and Saudi Foreign Minister discuss prospects for the development of economic cooperation between Bulgaria and Saudi Arabia
0
3
20 September 2023 | 19:44

Head of State Rumen Radev from the UN Rostrum: Priority of the 78th UNGA Session Should Be to Find Modalities That May Pave a Way towards Restoring the Peace in Ukraine
0
3