NEWS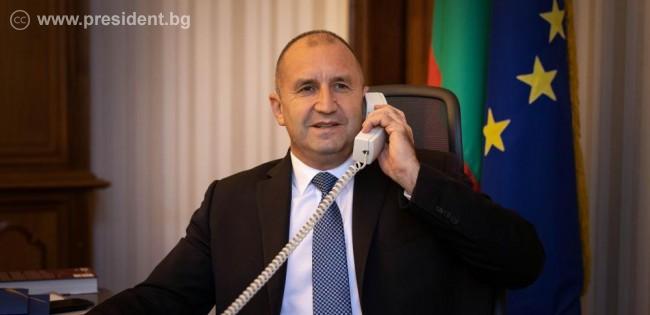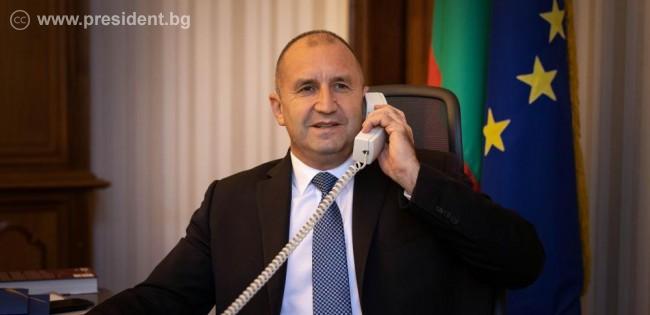 4 October 2021 | 18:31
Rumen Radev: In its dialogue with the Republic of North Macedonia Bulgaria upholds the values of the European Union
The Bulgarian Head of State conversed over the phone with his German counterpart Frank-Walter Steinmeier
In its dialogue with the Republic of North Macedonia, Bulgaria defends not only national interests, but above all the values of the European Union, which are based on democracy and respect for human rights. This is what President Rumen Radev said today in a telephone conversation with the President of the Federal Republic of Germany, Frank-Walter Steinmeier. The talk took place on the initiative of the German President on the eve of the EU-Western Balkans Summit to be held in Slovenia on 5 and 6 October.
The whole region will benefit from progress in the process of European integration of the Republic of North Macedonia, Rumen Radev said, adding that Bulgaria expects specific results in terms of respect for human rights in its southwestern neighbour, which will accelerate this process.
"A census is underway in the Republic of North Macedonia and Bulgaria is receiving a number of alerts about pressure on people who openly express their Bulgarian identity, which is unacceptable for an EU applicant country," Rumen Radev said. The President also stressed that the numerous declarations and promises made by the state leadership of the Republic of North Macedonia to Bulgaria over the years remain unfulfilled, including the bilateral Treaty of Friendship, Good Neighbourliness and Cooperation signed in 2017. Therefore, this country insists on legally binding guarantees from the Republic of North Macedonia in the bilateral dialogue.
MORE FROM NEWS
2 December 2021 | 15:28

President Rumen Radev talks with French President Emmanuel Macron in Strasbourg
0
2
2 December 2021 | 15:10
President Rumen Radev in Strasbourg: Valery Giscard d'Estaing's faith in Europe's common future paved the way for the European Union after the fall of the Berlin Wall
0
4
2 December 2021 | 12:29

Presidents Rumen Radev and Frank-Walter Steinmeier discuss the security environment in EU neighbouring regions and the European perspective of the Republic of North Macedonia
0
2
1 December 2021 | 10:54

President Rumen Radev: Sustainable demographic development is a key driver of social, economic and political progress
0
4
1 December 2021 | 09:21

World leaders congratulate Rumen Radev on his re-election as President of the Republic of Bulgaria
0
1
30 November 2021 | 19:11
Head of State Rumen Radev conversed on the phone with his Austrian opposite number Alexander Van der Bellen
0
1
30 November 2021 | 17:52
The high-level dialogue is key to building trust and surmounting the contentious issues in relations between Bulgaria and the Republic of North Macedonia
0
1
30 November 2021 | 13:45

President Radev: Consistent socio-economic policies are a necessity to overcome the demographic crisis
0
2