NEWS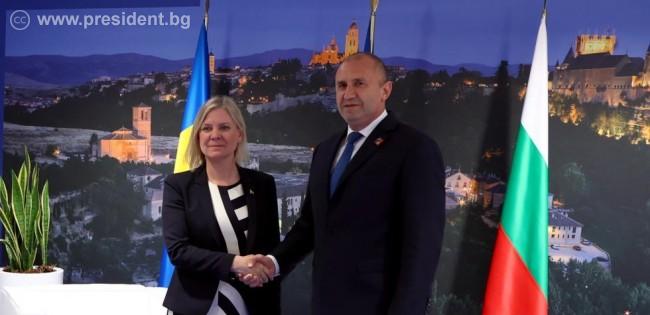 29 June 2022 | 18:09
President Radev and the Swedish Prime Minister highlight high technologies and innovations as potential areas for deepening bilateral cooperation
President Rumen Radev and Sweden's Prime Minister Magdalena Andersson held a working meeting in Madrid today and highlighted high technologies and innovations as potential areas for fostering bilateral cooperation. The talks took place on the sidelines of the NATO summit taking place in the Spanish capital.
The Bulgarian head of State stressed that this country is attractive for investors not only in terms of the best tax conditions in the EU, but also with its highly skilled workforce and the fast-growing information technology sector, an example of which is the Institute for Computer Science, Artificial Intelligence and Technology in Bulgaria, opened with the support of leading scientists and technology companies.
The bilateral security partnership was also one of the topics of the meeting, with Prime Minister Andersson expressing her appreciation for Bulgaria's support for Sweden's accession to NATO. President Radev mentioned Bulgaria's aspiration for further deepening of cooperation in this area and expressed this country's expectation for faster accession to the Schengen area.
MORE FROM NEWS
30 September 2022 | 18:56

Presidents Rumen Radev and Ilham Aliyev: Energy and transport connectivity is key to tackling the crisis
0
6
26 September 2022 | 18:57
President Radev and his Egyptian counterpart discuss bilateral cooperation in energy and economy
0
1
8 September 2022 | 17:32

Presidents Radev and Iohannis discuss energy connectivity and the prospect of Bulgaria and Romania joining Schengen
0
1
8 September 2022 | 15:25

President Rumen Radev discussed at a meeting with energy company Lukoil, stabilising the economic environment and combating inflation
0
1
5 September 2022 | 19:21

President Rumen Radev and North Macedonia's Prime Minister discussed electricity supplies and joint economic projects
0
3
2 September 2022 | 08:55

Head of State Rumen Radev meets with UAE President Sheikh Mohamed bin Zayed Al Nahyan
0
5
1 September 2022 | 17:23
Rumen Radev: The strategic partnership between Bulgaria and the UAE gives a prospect for the trust in bilateral relations to be transformed into real results
0
3