NEWS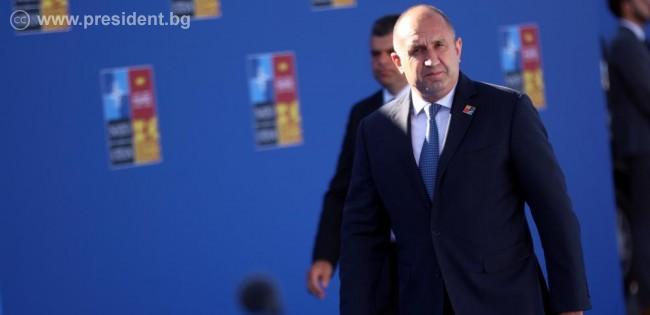 30 June 2022 | 19:28
Rumen Radev: NATO's new strategic concept is the result of Russia's war against Ukraine
Bulgaria has contributed to the establishment of the NATO Innovation Fund, the Head of State stressed
The NATO summit in Madrid is taking place at a time of a radically changed security environment. Following Russia's aggression against Ukraine, NATO's new strategic concept returns the Alliance to its core mission - to be a guarantor of the territorial integrity, sovereignty and security of each member state. This is what President Rumen Radev told journalists after the NATO summit in Madrid.

It is particularly important for the countries on the Eastern flank to develop their logistics system, infrastructure and connectivity, the President stressed. Rumen Radev reiterated his call on this country to use all NATO financial mechanisms and instruments to invest in the construction of fuel pipelines, road and rail connectivity, ports and airports to minimise the secondary effects of the war in Ukraine.

Responding to a question about the increase of the multinational battle group in Bulgaria to the rank of a brigade, the President reminded that specific decisions with all mechanisms and details are taken at the military-political level.

Rumen Radev highlighted Bulgaria's contribution to the establishment of the NATO Innovation Fund, whose aim is to support and develop the alliance's technological advantage in security and defence. Joining the fund enables this country to be part of the efforts to develop new technologies and preserve its technological advantage, the President said. This is a tremendous opportunity for our defence industry and science to integrate into NATO's leading projects in high technology and defence production. This fund marks the beginning of the NATO Defence Innovation Accelerator, the Head of State added.



MORE FROM NEWS
1 October 2022 | 16:58

Presidents Rumen Radev and Stevo Pendarovski discuss more active energy partnership
0
3
1 October 2022 | 13:21

Radev to Von der Leyen: Bulgaria's Schengen accession will reinforce integration in Southeast Europe
0
3
1 October 2022 | 11:55

Radev and Mitsotakis: The strategic partnership between Bulgaria and Greece is an example for the region
0
2
1 October 2022 | 11:08
Head of State: Expanding connectivity between Bulgaria and Romania is important for the economic exchange of the whole region
0
2
30 September 2022 | 18:56

Presidents Rumen Radev and Ilham Aliyev: Energy and transport connectivity is key to tackling the crisis
0
6
26 September 2022 | 18:57
President Radev and his Egyptian counterpart discuss bilateral cooperation in energy and economy
0
1
8 September 2022 | 17:32

Presidents Radev and Iohannis discuss energy connectivity and the prospect of Bulgaria and Romania joining Schengen
0
1