NEWS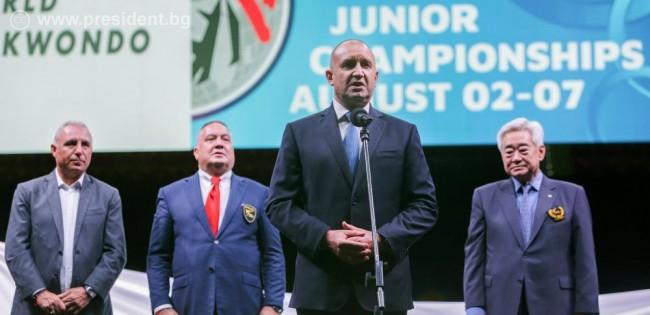 2 August 2022 | 19:47
President Rumen Radev: Sport teaches discipline, responsibility and respect not only for the partner but also for the opponent
The Head of State opened the World Junior Taekwondo Championships in Sofia
For centuries, martial arts have been developing perfection of physique and character, educating discipline and responsibility, respect not only for the partner but also for the opponent. This was stated by President Rumen Radev, who today opened the World Junior Taekwondo Championships at Arena Armeec in Sofia. The event is held under the patronage of the Head of State.
The President congratulated the organisers of this significant sporting event, highlighting the dedication of the parents and coaches who motivate the young athletes. You are giving them a chance to develop and establish themselves as strong and confident individuals not only in sport, but also in life, the Head of State said and wished the athletes to set an example in promoting the principles of fair play and values in sport.
This year Bulgaria is hosting two World Taekwondo Championships, with Sofia hosting the World Cadet Championships and the World Junior Championships from 28 July to 7 August. The opening ceremony was attended by World Taekwondo Federation President Dr Chungwon Choue, world-famous Bulgarian football player Hristo Stoichkov and Bulgarian Taekwondo Federation President Slavi Binev.
MORE FROM NEWS
30 September 2022 | 18:56

Presidents Rumen Radev and Ilham Aliyev: Energy and transport connectivity is key to tackling the crisis
0
6
26 September 2022 | 18:57
President Radev and his Egyptian counterpart discuss bilateral cooperation in energy and economy
0
1
8 September 2022 | 17:32

Presidents Radev and Iohannis discuss energy connectivity and the prospect of Bulgaria and Romania joining Schengen
0
1
8 September 2022 | 15:25

President Rumen Radev discussed at a meeting with energy company Lukoil, stabilising the economic environment and combating inflation
0
1
5 September 2022 | 19:21

President Rumen Radev and North Macedonia's Prime Minister discussed electricity supplies and joint economic projects
0
3
2 September 2022 | 08:55

Head of State Rumen Radev meets with UAE President Sheikh Mohamed bin Zayed Al Nahyan
0
5
1 September 2022 | 17:23
Rumen Radev: The strategic partnership between Bulgaria and the UAE gives a prospect for the trust in bilateral relations to be transformed into real results
0
3