NEWS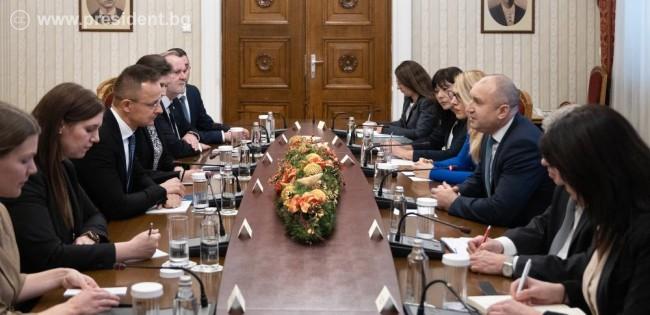 16 January 2023 | 15:09
Bulgaria and Hungary Face Common Challenges and Share Similar Positions on Important Issues on the EU Agenda
Bulgarian head of State holds meeting with Hungarian Minister of Foreign Affairs and Trade
Bulgaria and Hungary face common challenges and share similar positions on important topics on the European agenda, which are a good basis for further cooperation, head of State Rumen Radev said at a meeting with Hungarian Foreign and Trade Minister Peter Szijjárto. During the talks, the two discussed the prospects for deepening the bilateral partnership with a focus on energy and European security.
Szijjárto visit to Bulgaria is at the invitation of the caretaker Minister of Foreign Affairs Nikolay Milkov and precedes an upcoming visit to Bulgaria by the Hungarian President, Katalin Novak.
As countries at the external border of the European Union, Bulgaria and Hungary are making great efforts to cope with the increased migration pressure, it was noted during the meeting. Minister Szijjárto expressed support for Bulgaria's accession to Schengen and praised Bulgaria's commitment in securing the border. Radev also noted the efforts of the Bulgarian authorities to prevent international channels of illegal trafficking of migrants, including secondary migration. Dealing with migratory pressure is of key importance for the security of all European countries and therefore requires a common commitment, the President said.
The Bulgarian President and the Hungarian minister also discussed the possibilities of expanding the partnership in the energy sector. Rumen Radev noted that the significant level of diversification of energy supplies, which Bulgaria has achieved in recent months, is also of interest to other European countries against the backdrop of the economic crisis. The construction of interconnections with our neighbouring countries, including the commissioning of the interconnector with Greece, as well as the agreement on access to Turkish liquefied natural gas terminals, contribute not only to Bulgaria's energy security, but also to Europe's, the head of State noted. Rumen Radev and Peter Szijjárto also discussed the prospects for increasing the level of diversification through the implementation of the Solidarity Ring (STRING) project initiated by Bulgaria, which allows for the transmission of additional quantities of natural gas to Europe from the Southern Gas Corridor using the existing infrastructure.
MORE FROM NEWS
6 June 2023 | 18:19

VP Attends B9 Meeting in Bratislava
0
2
3 June 2023 | 20:52

President: Cooperation between Bulgaria and Turkiye on Energy and Transport Connectivity Is Crucial for Europe's Future
0
2
1 June 2023 | 18:57
President Discusses with Moldovan PM Bulgaria's Assistance in Strengthening Moldova's European Path
0
1
1 June 2023 | 18:28
President discusses with Austrian Federal Chancellor Strengthening of Bilateral Cooperation with Focus on Protection of External Borders and EU and Fight against Illegal Migration
0
2
1 June 2023 | 14:26

President and British Prime Minister Discuss Deepening Cooperation in Tackling Illegal Migration
0
1
1 June 2023 | 14:20

President talks with EP President
0
1
1 June 2023 | 13:43

Rumen Radev to Mark Rutte: We Expect the Decisive Step in the Judicial Reform in Bulgaria to Change the Position of the Netherlands on Our Schengen Membership
0
2