PHOTO GALLERY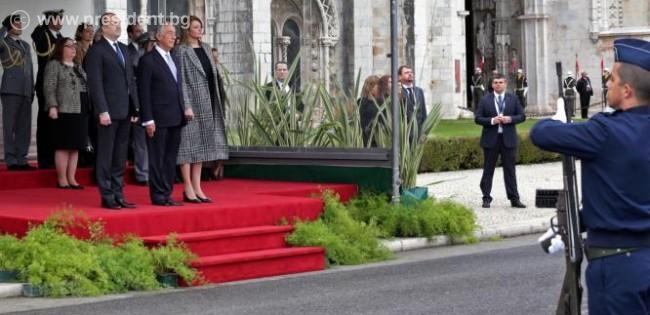 30 January 2019 | 18:46
State visit of President Rumen Radev to the Portuguese Republic
The state visit of President Rumen Radev to the Republic of Portugal began. The Bulgarian Head of State and his wife Desislava Radeva were welcomed by President Marcelo Rebelo de Suosa with an official ceremony at the Empire square in Lisbon. Rumen Radev laid a wreath at the Jeronimos monastery and paid tribute to the memory of the great Portuguese poet Luis Vaz di Camoes.
At a meeting between the two presidents in the Belem palace, Head of State Rumen Radev will raise the issue pertaining to the prepared Mobility 1 package, which affects the interests of tens of thousands of Bulgarian citizens and has an enormous effect on the Bulgarian economy, the growth of national income and employment. Bulgaria and Portugal share common stances that the adoption of the package will have a negative effect on a lot of European countries and is not in line with fundamental European values, principles and policies. Rumen Radev already expressed Bulgaria's position on the topic in a letter to the President of the European Parliament Antonio Tajani before the document was passed.
Rumen Radev and Marcelo Rebelo de Suosa are also expected to discuss the migratory pressure on Europe and the reformation of the European asylum granting policy, which will relieve the burden of the countries protecting the external European borders.