PHOTO GALLERY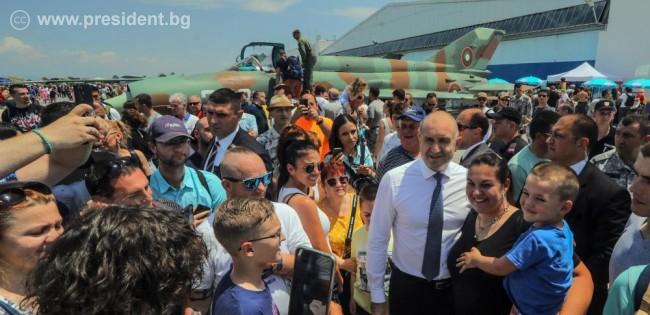 25 June 2022 | 14:45
President Rumen Radev attends the open flying day marking the 110th anniversary of the first combat flight of the Air Force
Photos: Ognyan Stefanov
President Rumen Radev congratulated the Bulgarian Air Force on the glorious 110th anniversary of the first combat flight. I express my deep gratitude to all the men and women with blue shoulder straps for their high level of professionalism and dedication, President Rumen Radev told journalists at the Graf Ignatievo Air Base.

At the airbase, the head of State and Commander-in-Chief attended the open flying day on the occasion of the aviation holiday dedicated to the 110th anniversary of the first combat flight of the Bulgarian aviation and the 85th anniversary of the awarding of the combat flags to the aviation units.

Upon arrival at the airbase, the President reviewed the troops. He also participated in the official opening of the flying day. The event gathered thousands of people who came from all over the country to watch the intense flying programme and the ground static display of aviation machinery and special equipment.

The program of the aviation holiday included the presentation of elements of the main missions and tasks performed by MiG-29, Su-25, C-27J "Spartan", L-410UVP-E, L-39ZA, PC-9M planes, and Mi-17, AS-532AL "Cougar", AS-565 "Panther" and Bell-206 helicopters, a display of the combat capabilities of Bulgarian pilots of the Air Force and the Navy.